To keep your home clean, it is important you have the right cleaning products to get the job done. There are several staple cleaning products you need, including antibacterial all-purpose cleaners, and heavy-duty sponges. Below we have listed 11 of our favourite and most highly recommended cleaning products.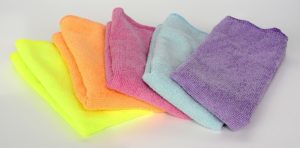 We mention microfibre cloths a lot on this blog and that's because there aren't many cleaning cloths we've come across that work as well as these beauties! It is pretty incredible just how effective these little cloths are. You can dust surfaces and actually lift the dust, rather than spread it around. You can wipe up liquid messes, clean the bathroom, and even wash the windows with these cloths. And the great thing about microfibre cloths is that they are fairly inexpensive and can be found pretty much anywhere.
Top tip: find them in your local supermarket or simply search for them on Amazon.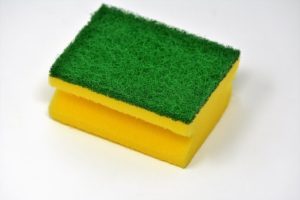 The sponge has been a cleaning equipment staple in British households for decades. It's versatile, easy to use, and effective at cleaning, well, just about anything! But you can't beat the Scotch-Brite heavy duty scrub sponges. These sponges are perfect for cleaning everything from the dishes through to even the toughest of messes.
With a tough side and a softer side, you can clean all sorts of messes in your home. And the brilliant thing about these sponges is that you don't need to throw them away once you're finished cleaning. Simply sanitise them in the dishwasher and then reuse! How great is that? You need to give these sponges a try!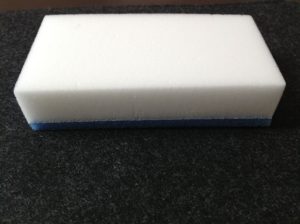 Everyone swears by this little magic eraser and we have to admit that initially, we were a little bit sceptical. However, we have since discovered that there is nothing the Mr Clean Magic Eraser can't do! The melamine sponge is ever so slightly abrasive and this means it can tackle even the toughest of stains with very little effort (and without damaging the wall or the surface underneath). That crayon marking your child delightfully drew along the kitchen wall. It's no problem for the magic eraser!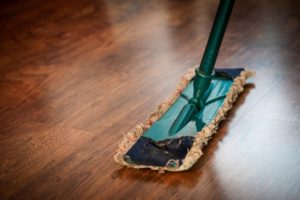 If you have wooden or tiled floors, you know how tricky they can be to keep clean. So many products and mops leave streaky marks after cleaning that make your floors look even worse than when you started. But with a quality steamer mop like this, cleaning your floors has never been so easy.
The steaming capabilities of this mop help reduce the bacterial counts in your home significantly, keeping your whole family safe from harmful bugs and sicknesses. What's more, your floors look shiny and new!

Method Antibacterial All-Purpose Cleaner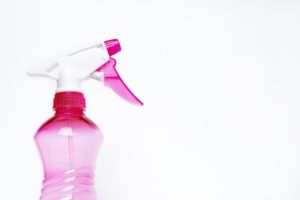 Method is one of the most well-known natural cleaning products on the market. This fantastic company are getting a good reputation for their green cleaning products and it's not hard to see why – because they actually work! The all-purpose anti-bacterial cleaning solution was one of their first products and it still stands today as one of their best. The fact that it's all natural is simply a bonus.
This antibacterial cleaning product kills 99.9% of all bacteria and can be used basically anywhere around the home. You can spray it on floors, kitchen surfaces, wooden tables, bathrooms, stainless steel, windows, and more. Once wiped away, this cleaning product leaves a shiny appearance and a clean, fresh smell. No artificial ingredients whatsoever.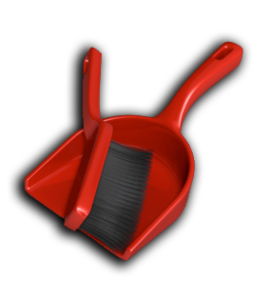 A dustpan and brush set are an essential part of your cleaning arsenal and one that hooks together for simple storage is even better. Sometimes, you don't want to drag the hoover out of the cupboard to clean up some crumbs in the kitchen. So, having a little handheld broom and dustpan set nearby is a quick and easy fix.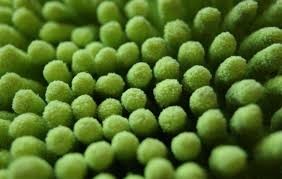 Having an extendable microfibre duster to hand that will help you reach those spiderwebs on the ceiling and the tops of your cabinets easily, is a must. And the great thing about choosing a microfibre duster is that it actually lifts the dust, instead of just spreading it around. With the help of an extendable microfibre duster, your days of lugging out the step ladder or pushing chairs around the room are over.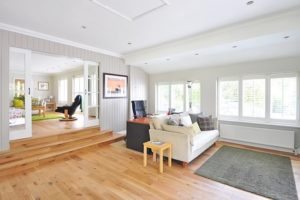 Take great care of your floors with Ecover floor cleaner. This all-natural product creates a shine that only linseed oil can offer. It protects all types of floor surfaces and it smells incredible. Made from plant-based ingredients, Ecover cleans floors quickly and expertly, providing protection against the wear and tear of daily use.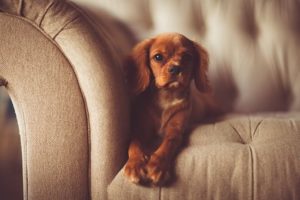 If you have pets in your home, you know how difficult it can be to neutralise odours and keep your house smelling fresh and clean. However, Earthworm Pet Stain and Odour Eliminator uses enzymes to break down a whole host of pet stains. Highly rates by the Environmental Working Group, the Earthworm Pet Stain and Odour Eliminator is a fragrance-free solution to eliminating pet odours and because it's fragrance free, it is less likely to cause potential allergies.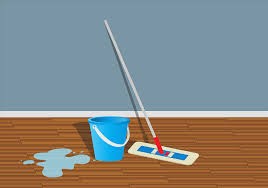 White vinegar has been used in household cleaning products for years and it is recommended by the experts as one of the best cleaning products around. White vinegar is effective at getting rid of bad odours, shining glass, and cutting grease. Use it with water or add essential oils for a fresh fragrance and make cleaning products of your own. White vinegar is a versatile cleaning product and there is so much that it can be used for.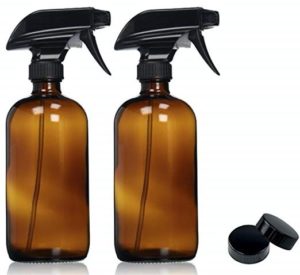 If you are passionate about saving the environment and doing everything you can to live greener, Sally's Organics Glass Spray Bottles are just what you need. These glass spray bottles are the perfect accompaniment to your cleaning cupboard and will significantly reduce the amount of plastic waste your home produces. These bottles hold 16 ounces of cleaning product and they are even available in different colours, so you don't need to worry about mixing them up!
Remember: any cleaning products containing essential oils should be stored in glass bottles to help maintain their quality.
Now that you know which cleaning products we would recommend, check out our advice for cleaning your house in just 1 hour. Yes, it is possible!