Unfortunately, as much as we love our furry feline friends, they can make for a messy, and sometimes smelly, home. Not everyone loves the smell of cats and the hairs they shed all through the house. So, if you've got friends or family coming to stay for Christmas, it's time to get cleaning! Discover our tips below for keeping a house clean with cats.
Brush Your Cat Regularly
If you own a cat, you know that cat hair settles everywhere, but what you may not know is that it's not impossible to fix the problem…or at least reduce its affects. Grooming your cat regularly is one of the best ways to reduce hair from building up around your home. Grooming your cat means that hair would normally end up on your floors and furniture will instead be caught in the brush and thrown away.
Vacuum Regularly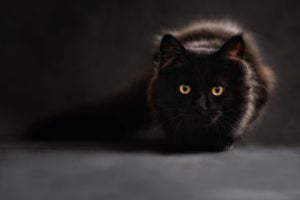 If you own a cat, it is important that you also own a very powerful vacuum cleaner. To keep the excess cat hair in your home to a minimum, it is best to vacuum regularly. Some vacuum cleaners now come with high efficiency allergen filters, perfect for picking up those fine cat hairs that have embedded themselves into your carpet. We recommend vacuuming every two to three days if you have the time. You can find out more about how to keep your carpets clean here.
Clean All Baseboards
Don't forget to wipe down the baseboards around your home as these are often where a lot of cat hair and dust settles. Wipe down baseboards with a damp cloth and then follow with the hoover to pick up any straggling hairs that have been left behind. This is a great way to reduce hair build-up around your home.
Don't Feed Your Cat in the Kitchen
Food and water bowls on the kitchen floor are hazardous and can cause a big mess when knocked over (and if you have children, let's just say the chance of a big mess is far more likely). The best solution we can offer is to find another location to feed your cat.
Consider feeding your cat outside, on the porch or in the laundry area. These are all places where traffic is less, and your cats can be left to eat undisturbed. Of course this is not a practical solution for everyone, but it will reduce the regularity of food and water spills in the kitchen.
Find a Place for the Litter Box
For most people, dealing with the litter box is one of the worst parts about owning a cat. Not only are litter boxes messy, but they can also be very smelly. And if your cat is a litter kicker, you could end up with pieces of cat litter flung all around your home.
The best solution to this is to place the litter box on a wooden or tiled floor, rather than carpets, as spills are easier to clean up. You can also put a special mat under your cat's litter tray that helps catch any litter when it is flung from the box. Although this won't solve the problem completely, it will confine the mess in one place, making it far easier to clean up.
Have a Blanket Just for Your Cat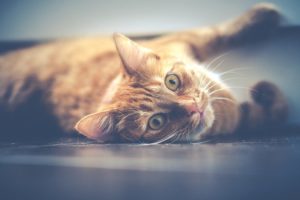 To reduce the smell around your house, designate a couple of blankets that are just for your cat. The best solution is to drape blankets over the areas in your home where your cat likes to snooze. Perhaps the end of your bed or the corner of the couch is a favourite spot – place a blanket there.
By providing a blanket just for your cat, you will reduce the cat hair that collects on bedding and furniture. What's more, you can also wash the blanket regularly to keep it smelling fresh and clean.
Clean Furniture with Baking Soda
People who don't have cats are more likely to notice the smell a home can have when there is a cat or two living there. It may be that you have become accustomed to the scent, but trust us, it's definitely there.
One of the best ways to reduce bad odours in your home is to clean your furniture with baking soda. This is a great natural cleaning solution that is safe to use around your cats and ideal for keeping your home fresh and odour-free. It works by breaking down bad smells naturally. Just sprinkle a generous amount of baking soda onto the fabric and let it sit for about 20 minutes. After 20 minutes, hoover up the baking powder and the funky cat smell will be gone!
Keep Your Counters Clean
It is important to keep your cats off kitchen counters and worktops where food is prepared. Cats love to lounge around on the surfaces in your home and your kitchen countertops will, unfortunately, be no exception. That's why it is important to clean your countertops with an antibacterial cleaning agent as often as you can, but most importantly before and after preparing food.
Air Out Your Home Regularly
We have talked about the odour cats can cause in a home, one of the best ways to reduce this is by opening the windows and airing out your home daily. If you can get into the habit of opening the windows and letting fresh air circulate a couple of times a day, you will find the odours in your home significantly reduce.
Book Our Professional Cleaning Services
Cats are a popular pet. They are fluffy, cute and love to cuddle – what's not to like? But cats can also be a real handful and trying to keep your house clean on top of everything else can feel like a full-time job in itself! We hope our tips have given you some helpful insights into keeping your home clean with cats.
However, if you just don't have the time to keep on top of the cleaning, consider booking our domestic cleaning services. We can send professional cleaners to your home as regularly as you require so that, even if you have a cat, your home is clean and stays that way.