At Why Bother Cleaning we pride ourselves on our superb professional cleaning service and the quality of our work, but we also aren't shy to share some cleaning tips with you too!
Bathrooms should be a relaxing haven where you can spend some me time, but when your bathroom cleanliness leaves a little bit to be desired it can get you down and completely put you off using the space. But for most of us, bathroom cleaning is one of the household tasks we most dread. However, if you approach it in the right way and utilise some clever cleaning tricks, you can make getting to grips with your bathroom an absolute doddle and ensure it always looks spotlessly clean. Read on to discover everything you need to know for easy bathroom cleaning.
---
Clean Shower Glass for Super Shiny Doors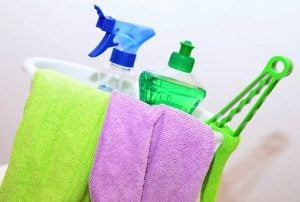 Shower doors often fall victim to water stains, soap scum and limescale, but you can keep all the glass in your bathroom spotless and stunningly shiny by treating your doors with a  teaspoon of lemon oil every few weeks. Use a soft, cotton cloth to rub the lemon oil across your doors and water will simply roll off the surface, rather than sticking around and causing a mark as it dries. Alternatively, you can use a product designed to keep rain off your car windscreen.
---
How to Clean Shower Curtains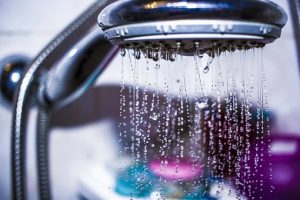 Shower curtains can often develop mildew and mould but you can keep yours spotless by placing it in a hot wash along with a few towels which will act as an abrasive to get rid of marks. If your shower curtain still looks dirty then add a cup of thick bleach to a washing up bowl full of warm water and soak your shower curtain until any stains have disappeared. Or you can avoid the problem altogether by purchasing a mould and mildew resistant curtain.
---
Leave Your Toilet Smelling Clean and Fresh
If you don't want to use chemicals in your toilet try orange squash instead, but make sure it contains citric acid. Add half a cup of orange squash to the toilet bowl and leave it to soak for a while before flushing. Alternatively, you can try adding a table spoon of baking powder to the bowl.
---
A Quick Bedtime Bathroom Cleaning Tip
When your kids are cleaning their teeth use the time to wipe over the bath, toilet and any surfaces with anti-bacterial wipes and get rid of any rubbish or clutter. That way once they're in bed you can relax.
---
Antibacterial Wipes to Clean Your Bathroom Floor
If you don't want to get down on your hands and knees to scrub your floors or give yourself a mopping great backache then place a couple of anti-bacterial floor wipes under your feet and slide around – not only will this get your floor clean, it's also lots of fun and will burn a few calories too.
---
Don't Forget to Clean Your Bathroom Cabinets!
Kitchen cabinets can often end up with wet things in them or times that might drip such as medicine bottles so clear out your cabinet once a month and clean off any dirt or residue that's gathered. To clean off sticky mess from medicine bottles put on rubber gloves, hold your bottle under a hot tap and gently rub the residue away, then thoroughly dry your bottle with a clean towel.
---
Call Why Bother Cleaning Today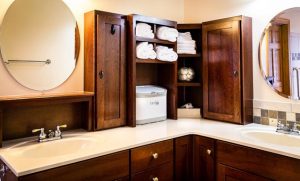 If the thought of cleaning your bathroom isn't appealing or you simply don't have time, give Why Bother Cleaning a call today. We provide domestic cleaning services for all our customers, doing all your cleaning so you don't have to!